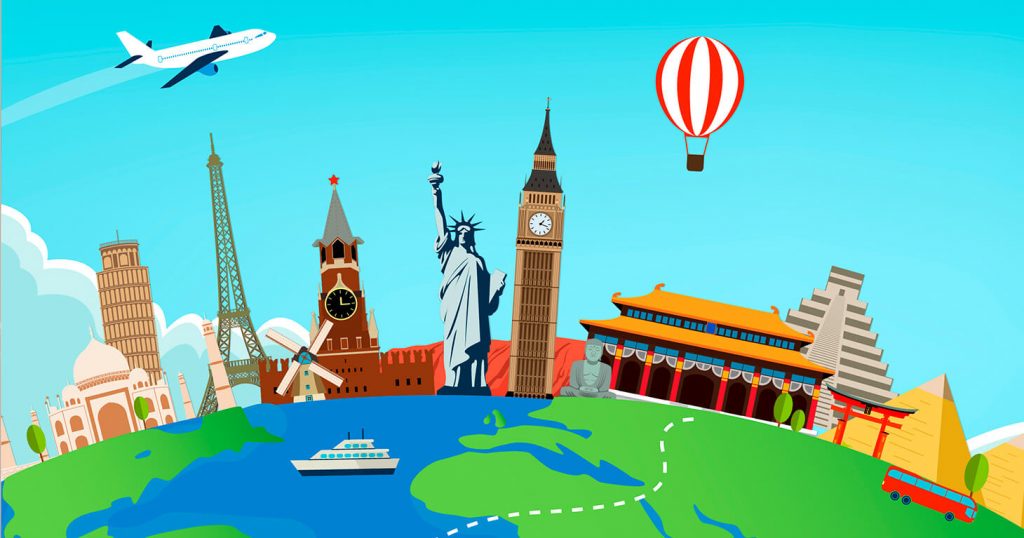 The Department of Travel and Tourism of was started functioning in the year 2008, offers 3 Years Bachelor Degree Programme in Travel and Tourism a.k.a BTTM (Bachelor of Tourism and Travel Management), affiliated and prescribed by Kannur University.
Tourism is one of the fastest growing and second largest industry in the world and has attained increasing recognition as a crucial sector with enormous potential for generating employment. The BTTM programme is more focused on providing the industry related skills to the students so that they can get better opportunities in tourism field.
Students of the department play a prominent role in organizing innovative events and programs. A platform for hands on training in the form of internship and on-the-job training in various organization help students to apply their theoretical knowledge and prepare them to face challenges of job market.
Vision
---
The vision of the department is to provide quality oriented teaching that may bring out the potentiality of the students and thereby become a leading provider of tourism related education, supporting the growth of country's tourism industry.
Mission
---
The mission of the department of Travel and Tourism is to become an agent for providing quality educational services and training programmes to develop competent and quality human resource for Travel and Tourism industry, taking into account of the present and futuristic requirements of the tourism sector.
Programme Offered
The Department of Travel and Tourism offers a three-year Graduation degree in Travel and Tourism (BTTM).

Duration of the Programme
The duration of B.T.T.M programme shall be 6 semesters distributed over a period of 3
academic years.
Medium of Instruction
The medium of instruction is English and no question paper will be prepared in
Malayalam.
Eligibility for Admission
A pass in Plus Two / equivalent exams with 50 % marks is essential. A weightage of 75 marks is also given to those candidates who have passed VHSE Travel and Tourism / Catering and Hospitality Management.
Requirements for the completion of the Programme
For passing the B.T.T.M degree programme the student shall be required to achieve a
minimum of 120 credits. These are distributed under four types of courses, viz.,
Common Courses – (English, Additional Language)
General Awareness – (Business Communication, Disaster Management),
Core courses –
Tourism,
Management,
Administration,
Hospitality,
Airline Management,
Logisitcs,
Airport Management,
Airfare and Ticketing
Geography,
Economics,
Culture,
Informatics,
Automation and Hotel Accounting
Complementary Elective Courses – (Culture and Geography) and
Generic Elective course (Tourism Business)
Faculties
---
Prasoon John
Head of the Department
MTA, UGC NET, IATA Certified Trainer, 8 Years Experience
Ashwani N
Assistant Professor
MTM, IATA Certified Trainer, 7 Years Experience
Preethi MA
Assistant Professor
MBA (Travel & Tourism), IATA Certified Trainer, 6 Years Experience
Manjunath PC
Assistant Professor
MBA (Travel & Tourism). IATA Certified Trainer, 3 Years Experience
Notable Alumni
---
Byju K
Cambridge University 'O' Level Trainer,
Ministry of Education, Maldives
Unais CH
Hospitality Services,
Royal Government of Britain, London
Sreeraj K
Assistant Professor
MM Knowledge Arts & Science College, Thaliparamba.
Kaladharan M
District Co Ordinator and Head
DDUGKY, Kasaragod
Sreejith K
Assistant Manager (Operations)
TRX Technologies, Abu Dhabi
Pranam K
Assistant Manager
Musafir.com, Dubai
Vijitha K
Assistant Professor
Malik Deenar College of Advanced Studies, Kasaragod
Vishnu K
Dy Head of Reservations
Makemytrip.com, Mumbai
Hendo Kattukaran
Senior Executive
Vivanta by Taj, Bekal
Achievements
---
University Topers
Vijitha K
1st Position in University, BTTM Degree, 2016
Pranam K
3rd Position in University, BTTM, 2016
Byju K
1st Position in University, MTTM, 2016
Swathi Mohan
2nd Position in University, MTTM, 2016
Sreeraj K
3rd Position in University, MTTM, 2016
Dhanyashree M
1st Position in University, BTTM, 2017
Athira R
3rd Position in University, BTTM, 2017
Ashwathi K
1st Position in University, MTTM, 2017
Ranjith K
1st Position in University, BTTM, 2018
Arjitha R
2nd Position in University, BTTM, 2019

Academic Requisites
---
Every students of department have to undergo following activities to fulfill the requirement for the award of BTTM Degree as per syllabus prescribed by Kannur University.
Study Tour (National)
Every student have to perform a National Tour on their 2nd Year of study to various places in the Country for explore and study the changing trends and challenges of various destinations. The journey will be through Train- Bus and Flight and will last about 7 to 10 days.
Study Tour (Regional)
An excursion or a study trip for 2 days will be conducted on the 1st year of study of Programme to a destination within Kerala.
OJT (On-the-Job Training) (Hospitality)
To know and practice the real life Hospitality Operations, every student have to be trained for 2 Months in a reputed 5 Star Hotel or Resort in South India on their 2nd Year of Study.
Automated Airline Ticketing
Every students should study the Airfare and Ticketing Mechanism by IATA. To practice the theritical aspects taught from Class Rooms, students have perform the same from an IATA Accredited Travel Agency in Kerala on their 2nd Year of study.
Project Report & Field Visit
Every study tour, OJT, Ticketing, everyone should prepare a unique project report for the activities they have undergone.
Activities
---
The department of Travel and Tourism annually celebrates following Programmes annually:
World Tourism Day
National Tourism Day
Department usually organizes following activities for the benefit of Theoretical Aspects of Tourism Knowledge.
Seminars & Workshops
Walk With Scholar
Meet an Alumni
Meet an Industrialist
The Extra Curricular Activities and Cultural Celebrations of department have got several appreciation from public. Students of the department usually classy on:
Onam Celebrations
Independence Day celebrations
Meet Up Beyond Campus
Tourism Club
---
The Tourism Club of the Department has accredited, funded and recognized by DTPC, Department of Tourism, Government of Kerala. All students of the Department of Travel & Tourism and interested students from other departments of the College may become a Member of the Club. All members of the Club can participate in the Volunteering and Extension Programmes of Department.
Volunteering
---
Students of the department have volunteered in several programmes, activities, situations in connection with the Tourism Aspects of Kasaragod District by Collaborating with BRDC (Bekal Resorts Development Corporation Ltd.) DTPC (District Tourism Promotion Council), Department of Tourism, District Disaster Management Authorities, IRCTC ( Indian Railway Catering and Tourism Corporation) such as:
Flood relief and essential transportation during Flood in 2018
Foreign Tourist relief Camp (during Covid-19 Pandemic Outbreak.) in 2020
Tourist Information Helpdesk at Railway Stations during peak time.
Annual Tourism Fest at Red Moon Beach.
Annual World Tourism Day Celebrations by BRDC/DTPC.
Programmes conducted in Association with Department of Tourism, Government of Kerala.
Tourist enumeration in destinations for Tourism Statistics.
Extension Programmes
---
The department pledge for the well being of tourists in the region. The extension programmes of department aims to benefit the Tourism Fraternity particularly in Kasaragod District. Several extension programmes were conducted time to time depends on the circumstances, some of them are:
Social Tourism Help Desk
Railway/Bus/Air Ticket Provisions for Rural people.
Information assistance for Travel Documentation for Rural people.
Identification of unexplored potential tourism resources.
Reporting of unethical practice in tourism destinations.