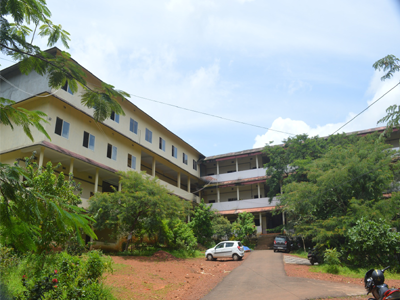 Peoples Co-Operative Arts & Science College(PCASC) Munnad, a self financing college affiliated to Kannur University and is managed by the Kasargod Co-Operative Educational Society (KCES).KCES has 38 years of experience in the field of education. The college was founded in 2005 with an express objective of educationally enpowering the people of this region kasargod District of Kerala state. Since its beginning the college has lived up to the society expectation, turning out consistent and appreciable results in academic a non academic fields year after year. The enrolment of student from far-away places is a testimony to the vibrant function of the college
The College offers 4 PG programmes and 12 UG programmes. It is the biggest college under Kannur University in the non financing stream with largest number of courses and highest number of students. The Dynamic campus is a abuzz with academic, cultural and sports activities. The College is given 2F Status by the UGC under the UGC ACT 1956. The college is having enviable achievement in Sports(National level) Arts(University level) and bags first, seconnd and third Ranks continuously for PG and UG courses in Kannur University.
Affiliations of College:
UGC
The University Grands Commission has listed the College among the recognized arts and science colleges. The College is given 2F Status by the UGC under the UGC ACT 1956.
Government of Kerala
Government of Kerala, Ministry of Higher Education have duly recognized Peoples Co Operative Arts & Science College, Munnad vide G.O.(Ms)No.2/2021/HEDN dated 02/01/2021
Kannur University
The College is affiliated to Kannur University and having regular college status. Considering the students enrolled, Peoples College is the largest in the University among the Self Financing Colleges.
Communication Details:
All the letters of the College shall be addressed to:
The Principal
Peoples Co Operative Arts & Science College
EMS Akshara Gramam, Munnad (PO)
Chengala (Via) Kasaragod. Pin 671541
Phone: 04994207100
Email: pcascmunnad@gmail.com
How to reach:
The College is located in Munnad, which is known for its rural and hilling serine beauty.  This pristine village is in Bedadka Panchayath about 30 Km east of Kasaragod/Kanhangad. The College situated alongside of the Thekkil- Aletty Highway.
By Bus: College Bus Stop has the stoppage for all bus service through the Thekkil- Aletty highway. One can access the College on Bendadka/Kuttikkol (via Poinachy/Kundamkuzhy) from Kanhnagad or Kasaragod Bus stations.
By Train: Nearest railway station is Kanhangad, which is 30 Km west of College to connect with major cities.
By Air: Nearest Airport is Mangaluru International Airport, Bajpe. Its about 50 Km north of College.